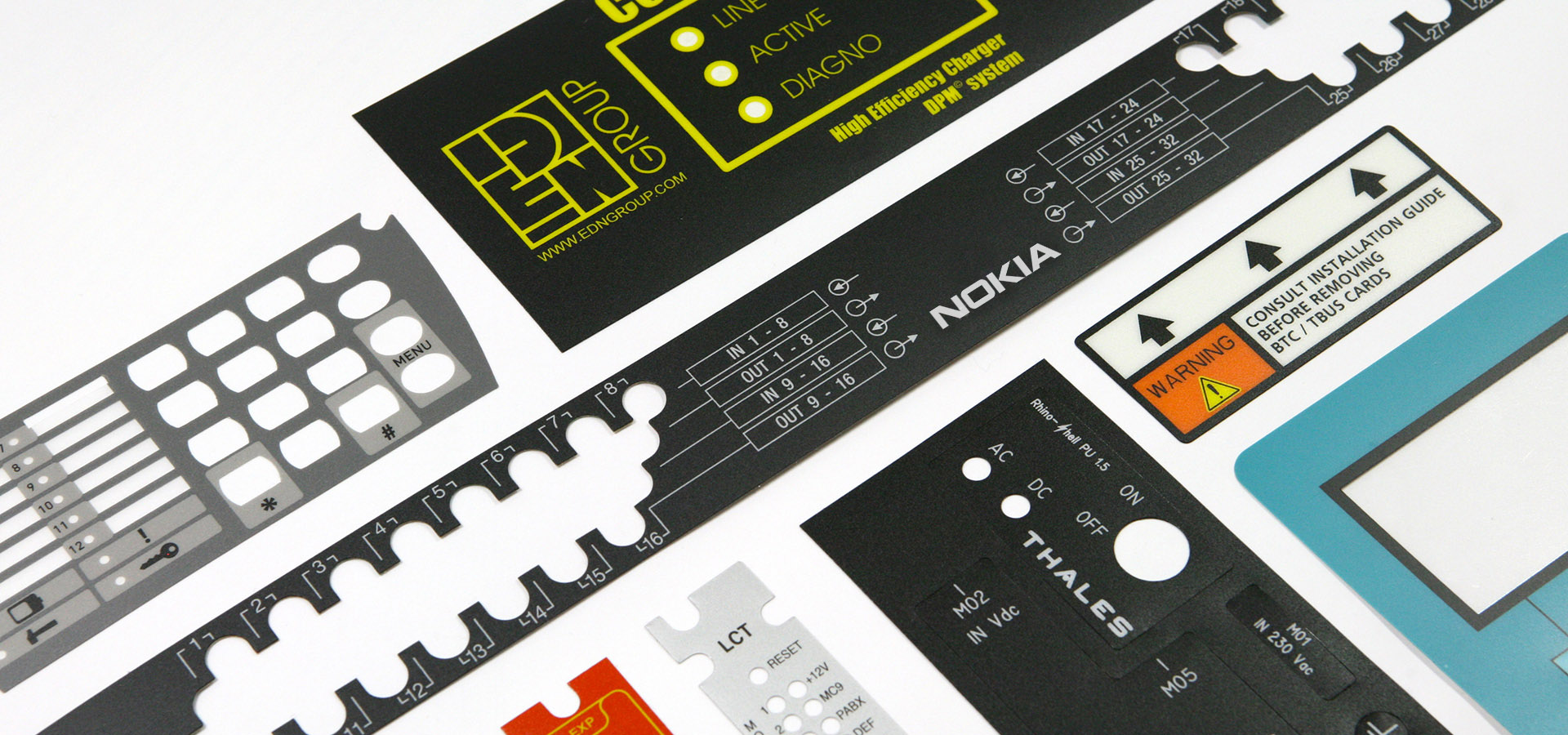 In the worldwide market, the aesthetical look of the most technological industrial products is more and more entrusted to the written graphic quality on visible parts. The long lasting SILTA's experience gained in over half century's activity is at Customer's disposal.
Front Plates
Thanks to Polycarbonate and Polyester adhesive coated films the painting with the relative masking and the subsequent mechanical part silkscreen-printing is not necessary. This latter, carried out on the rear film, guarantees a long time indelibility.
---
Labels
Identification, traceability along with data quantity to be transferred have been more and more pressing than ever. The self-adhesive labels, to be sticked on the most various products, react to these needs.
---
Die-cut Thermally Conductive Materials
These materials, containing silicon, electrically non – conductive but with high heat transfering features and in compliance with Flame Retardant UL 94 V-0 standard, have been using by the most important telecommunications and electronics companies to transfer thermal energy, inside electronic package groups as well on printed circuit boards and in the relative power supply units, from hot components to heat sinks.
---
Die-cut Parts
By means of the die-cutting technique, different sizes, thicknesses and shape parts can be supplied on a low cost of tooling, thus keeping good business relationships both with our suppliers and customers.
---
Photo-etched Parts
Photo-etching technology allows the fabrication of precision metallic parts having complex shapes, made of galvanized and stainless steel, alpaca (German Silver), beryllium copper, phosphorous bronze, aluminium, etc., from 0.05 to 1.00 mm thickness range.
---
Metallic Plates
The industrial product identification can sometimes require mechanical supports that enhance the company's look assuring, furthermore, to find the reported data out in hard environments, too.
---
Instrumentation Dials
Our instrumentation dials are mainly made of painted or satin-finished aluminium and of various thickness polycarbonate.
---
Membrane Keyboards
We are engaged in offering flexible membrane keyboards for a wide range of the professional applications, insuring high quality materials directed towards long-lasting and reliable final products.
---